Social Media
Marketing
Social Media has grown to become one of the key spaces that customers will choose to interact with the businesses and brands whose products and services they use, and research suggests that 86% of customers prefer a brand with an authentic voice on social media. Therefore, it is vitally important that you get your social media marketing spot on.
Social Media Performance Analysis and Consultancy
GEM will conduct robust analysis of not just your business and its social media performance, but also that of your nearest competition, providing data and recommendations for improving your daily interactions with your customers on the platforms they use the most. We will work with you to create optimised social media content that is most likely to gain engagement and therefore increase your visibility.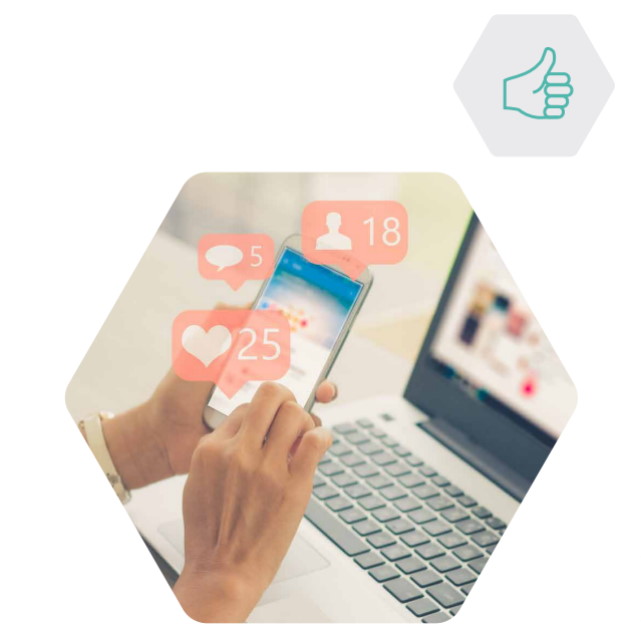 Paid Social Media Marketing
GEM can work with you to create and build bespoke audiences to minimise wasted spend with your social media advertising campaigns. Our experts have a proven track record of increasing directly-generated revenues via Paid Social Media campaigns and can work with you to understand the benefits of aspects of social media marketing such as when to use a boosted post over a targeted campaign and vice versa, and which platforms to use to achieve different objectives, as well as provide technical guidance on the most cost-effective methods of generating leads and custom.

All work completed by our social media team can be billed on a per-project or per-hour basis, depending on the amount of work required, and you will be provided with a fully transparent quotation with zero hidden costs, ahead of agreeing any work. Our pay-as-you-go billing model enables you to use GEM to complete the work as often or as little as you require, according to any changes in budget.
Social Media Marketing Tutorials

If you would rather become self-sufficient in social media marketing and avoid kicking money into the grass on having the work done for you, then the exclusive GEM learner portal will provide you with detailed how-to guides and theory behind building valuable awareness of your brand through social media. It includes a great deal of do's and don'ts, and at the end of the module you should have a far greater understanding of how to build both paid and organic social media campaigns.
*fees apply for premium access